Windows 11 is designed to bring you closer to what you like as well as is releasing at a time when the computer is playing a lot more central function in the way we link, produce and also play. When we decided on where to set the minimal system needs for window 11 Professional. Microsoft focused on three concepts to ensure a wonderful individual experience:
Dependability
Safety
Compatibility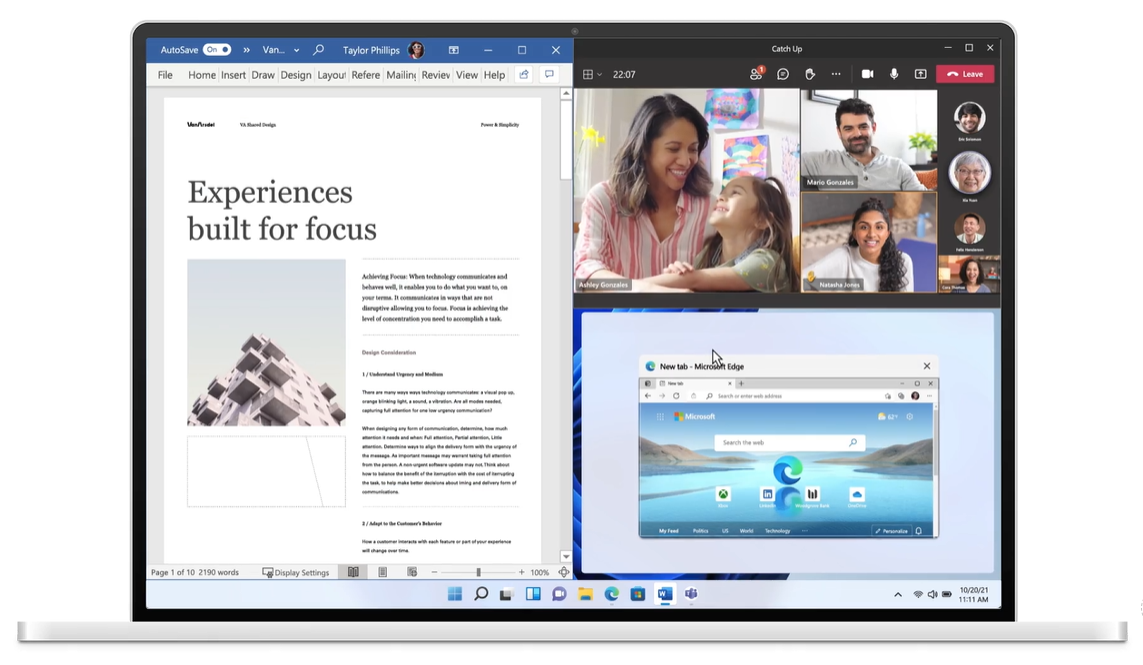 Windows 11 Professional offers a modern and overhauled UI, sleek, pleasant and functional encryption tools, security, entertainment, content creation, cloud sync services and much more
Windows 11 Professional is designed mostly for those who want security and TPM hardware on modern motherboards. Windows 11 popular features are available here.
Windows 11 Professional Feature:

New Desktop with Fluent Design language to arrange icons

Better Looking Windows to manage Start Menu

Faster loading time than Windows 10

Optimize UI to get your touch screen experience

Developer and Creator tools to monetize your work better

Full compatibility with latest Microsoft Office 2021, 2019 suites and office 365

Hyper-V client

Bitlocker to secure your critical data

Active Directory

Compatible with all latest software with top antivirus

WIFI 6E Compatible for faster experience

modern interface to manage disks directly from setting menu

Snap Layout and Snap Groups

Improved Tablet mode

Microsoft team integrated directly with dock

Night and Day mode toggle for better viewing experience

Support for Android apps available

Widgets based dynamic functions

Passwordless access with safety key or one time code
Overall Microsoft is much more focused on services to enhance user experience with strong security and cutting edge features, So just Download and activate Windows 11 Pro to have a better looking OS in your PC.

Windows 11 Professional Product Key Specs:

Product: Windows 11 Pro

License: Single PC Retail

Validity: Lifetime (Linked with MS)

Multilingual: All languages consisted of

Support: Specialized and also Free

Delivery: Free instantaneous email delivery 24/7



Upgrade from Windows 10 to Windows 11:

Your gadget should be running Windows 10, version 2004 or later, to upgrade through Windows Upgrade. Free updates are readily available via Windows Update in Setup > Update as well as Security.

Turn on utilizing a product key:
A product trick is a 25-character code, that looks like this:
Product KEY: XXXXX-XXXXX-XXXXX-XXXXX-XXXXX

After OS installment, you'll be motivated to Activate it with your product key. To get the task, choose the start menu, and afterwards choose Settings > System > Activation > Update product key > Activation product key.
Why Choose US:

You can buy Windows 11 Professional Product Key with best price than activate your OS by downloading and installing Microsoft official ISO.

We're providing Windows 11 Professional 100% genuine and valid license to activate your OS without any issue with lifetime warranty, In case any issue in the future as mostly seller did not offer after sale service.

You can pay us with secure PayPal gateway with 100% money back guarantee.

Instant delivery after shopping with 24/7 free Customer Service.

Windows 11 license bound with a Microsoft account and not with a computer, which means that you can use it anytime even after Formatting and new OS installation or PC replacement.

Just purchase Windows 11 Professional License from ODosta Store, Which can save your money to enjoy the benefits of Microsoft most popular Windows 11 OS.
Windows 11 Professional Download:

Three options are available on Microsoft Official Site to download, install or create Windows 11 media. Microsoft recommends to wait for notification of Windows update, If someone want to upgrade from Windows 10 to Windows 11.
Before installation, You should confirm the minimum system specification of your device which require to install windows 11 on your pc.
System Requirements:

Processor:

1GB 64bit CPU or faster or SoC chip system
RAM:

5GB
Storage:

64GB or Larger

Firmware:

UEFI and Secure Boot Capable
TPM:

version 2.0
Graphic Card:

Compatible with DirectX 12 or later
Display:

720p display which is greater than 9" and 8bits per color channel

Connection:

Internet connectivity with Microsoft account
Windows 11 Professional Product Key
Brand: Microsoft
Product Code: Win-11-Pro
Availability: In Stock
Related Products
Tags: Windows 11, Windows 11 Pro, Windows 11 Professional, Windows 11 Pro product key, windows 11 pro key, windows 11 pro key buy, windows 11 pro activation, windows 11 pro key purchase, windows 11 pro activation key, windows 11 pro license key, windows 11 pro code, windows 11 pro iso download, buy windows 11 pro