Windows 10 Pro Retail Box Package is Available for Resellers to sell Microsoft Legit and Genuine Windows 10 Pro Box at the affordable price. A certificate of authenticity (COA) is a label to help you and your customers identify genuine Microsoft Windows software. Without it, your customers will not have a legal license to run their Windows software.
You will find the COA included in the System Builder Pack that you acquired from your distributor. If it is not included, contact your distributor. You must affix the COA to the case of the computer on which you are preinstalling Windows as described in the system builder license.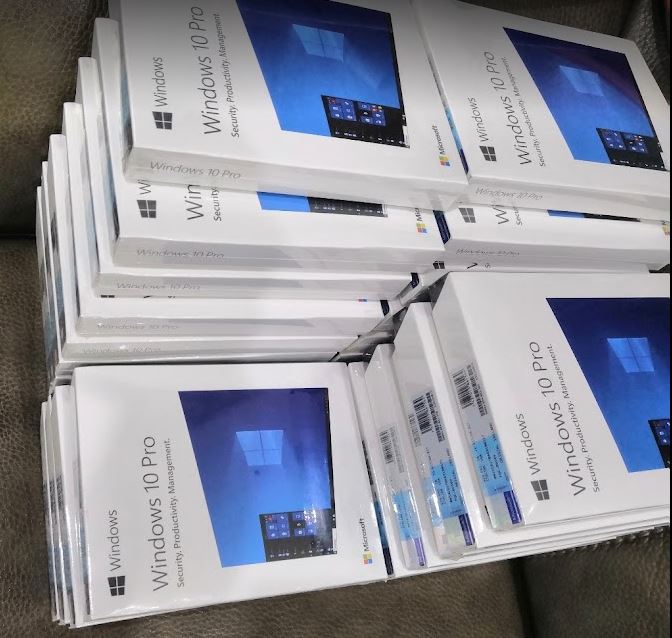 Certificate Of Authenticity:
The picture above shows the look and feel of the COA used for Windows 10 Pro. Similar to the Windows 7 & Windows 8.1 COA, it also includes security features to help prevent counterfeiting.
Recovery Media
A recovery disc is any of various media containing a backup of the original factory condition or a favored condition of a computer as configured by an original equipment manufacturer or an end-user. Retail supplied recovery media are often shipped with computers to allow the user to reformat the hard drive and reinstall the operating system and pre-installed software as it was when it was shipped. With Retail box package, You'll also receive recovery disk to reinstall your OS anytime, Given bellow;
Distribution
Individual Retail system builder Windows software licenses will be distributed with the following:
Certificate of authenticity (COA) label

Authorized recovery media

Documentation Software License Terms



Please Note:
You'll receive Windows 10 Professional 64-bit OEM Box via DHL within a week. The Software License Terms can typically be found within the software.
Place of Origin
Hong Kong
Brand Name
Microsoft
Version
Windows 10 Pro 64-bit
Package

OEM Box with Retail License

Packaging Details
License COA Stickers and DVD
Delivery Time
One Week After Payment
Payment Terms
Payoneer /

PayPal / PM /

Bank / BTC
Supply Ability
10,000 Pcs Monthly
Minimum Order Quantity
10 Pcs
Windows 10 Pro Retail Box Package for Resellers
This Product is for Resellers, Who want to buy Windows 10 Pro Retail Box at the affordable price to Resell to their Customer. If you're reseller, You can contact us for more bulk rates as discount can be provided according the required quantity.
Windows 10 Pro Retail Box Package
Brand: Microsoft
Product Code: 10Pro-Box
Availability: In Stock
This product has a minimum quantity of 10
Related Products
Tags: windows 10 Retail box, Windows 10 Pro Retail Box Package, windows 10 pro full version, windows 10 pro full version for sale, buy windows 10 retail package, windows 10 pro 64 bit retail box, 10 pro windows full version, windows 10 pro full version 64 bit, windows 10 pro retail box price