World wide web include billions of websites, Where some has free valuable content, some has great premium content, But mostly websites have no content, As webmaster are publishing many sites just for earning purpose, So you've to browse Google search to find out required data.
There are many browsers available in market to browse internet websites, But most of browsers don't have basic functions. Some browsers have many functions, but they are slow, while we're using separately or with other browsers, So we need to know the most popular and top ranked internet browser for fast and safe browsing ever, As we're sharing here;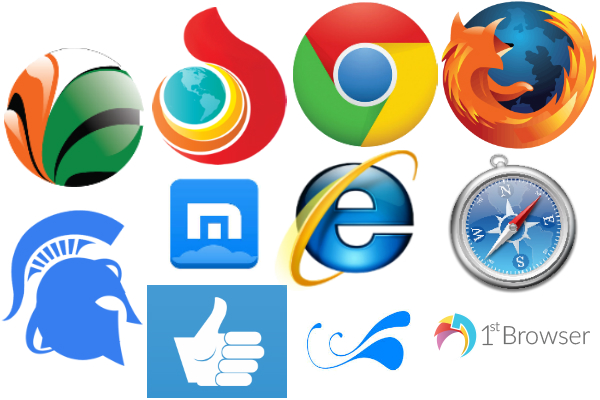 1- Mozilla Fire Fox:
Firefox is free, small, open source and most popular browser in the world for fast browsing, Developed by Mozilla Foundation and Corporation in 2002, Which is a non profit organization, dedicated it to individual person for online browsing. It has many monthly updated versions, available for windows, Linux and Android devices.
As you can browser; Top 10 Popular Google Adsense Earners in the World
Almost 20% of internet users worldwide are using Firefox because of its user friendly working dashboard, Which is the result of the struggle of Firefox support team, Who give timely response for all queries by the users in the world. You can also contact with them, If you want to get some reasonable changes in their latest version, Otherwise you should install its extensions, Which through you can make your browser updated to use with peace of mind.
2- Google Chrome:
Google Chrome is a fast, secure & freeware web browser, developed by Google Inc. in 2008 for the internet users in all over the world, As Recently Stat-counter reveals that, As a Desktop browser Google chrome has 56% usage share over other internet browsers.
Most of the source code of Google Chrome project is opened by Google Inc., Which is available for desktop and smartphone devices, With no need to install flash player to run videos. It also has many extensions to manage your browser with required updates, So you can use it with peace of mind.
3- Opera:
Opera is free, fast and best web browser, developed by Opera Software with initially release in 1995, Available now for Windows, Linux and other OS X, iOS, Windows mobile, Blackberry and Android etc.
Opera has almost 300 million user around the Globe because of its availability as a freeware for multiple devices in almost 42 languages with fast browsing on internet.
4- Torch:
Torch is fast and commercial freeware web browser, developed by Torch Media Inc. in June, 2012
Its my favorite browser, As it has many extra features such as; Sharing social sites, Flash player included and downloading option for torrents & videos running on your page. It has almost 15 million active user around the world.
5- Safari:
Safari is a limited freeware web browser developed by Apple in 2003, Which is available for iOS & OS X etc. It was released first in 2007 for MS Windows OS, But after the last release in 2012, It became discontinue for Windows OS, That's why, It did not include multiple tabs for fast browsing.
6- Epic Privacy:
Epic is privacy based web browser, developed by an Indian company "Hidden Reflex", based on the open source code of Google Chrome. It was released on July, 2010 with customization by Indian developers.
Using Epic, You can browser any site with hiding your personal IP and If someone want to to trace, You'll show in USA.
7- Internet Explorer:
Internet Explorer (Known as IE) is included in Windows OS, Which means, You need windows license to get it. It was developed by Microsoft Corp in 1995 for almost all devices, Which through we can browse internet, But mostly people disliked it because of its slow browsing.
Microsoft has been discontinued its release for Linux, iOS,  OS X and other OS, As its available for Windows only, Where Microsoft initially released its 11.0.22 version on 11 August, 2015, But Windows based users are using it just for downloading of advance browsers like; Firefox, Chrome etc.
8- Maxthon:
Maxthon is a freeware web browser, developed by Chinese Company "Maxthon Ltd." in 2005, Which is available in almost 53 languages for Windows, iOS, OS X, Android, Mac and Windows phone etc.
Maxthon has won 97th number award in the list of 100 Best Product of 2011, Which was organized by CNET on Webware 100 awards in 2008.
9- 1st Browser:
1stBrowser is smart, secure & freeware Chromium based web browser, developed by a US based company "1stBrowser" in December, 2013.
1st Browser is an Unique Internet browser (as Internet explorer, Firefox, Chrome, Safari, Opera …) with additional social features to easily access your favorite social networks, send emoticons and share pictures, pages & videos etc.
Using 1st browser, You can add your products to integrated wishlist and share with your friends, with getting all updates from online stores, but it has a technical issue that, It'll open automatically after restarting your windows.
10- Spartan:
Spartan is windows license based freeware web browser, developed by Microsoft in 2015.
Spartan browser is available in windows 10 only, As Microsoft did not provide it to install for other operating systems, So you've to upgrade your existing OS to use it.
You can also browser here; Top 10 Most popular Domain SE to Search Domain Names Fast
Author's Point of View:
I'm personally using all these web browser for internet browsing at my laptop, But as a common user, You don't need to install all browser, As they'll make your PC slow. You just need to buy Core i7, 4th gen machine to run all browsers without any issue.
Which browser, You're just using on your own PC, Please mention, If you've any issue being used above mentioned.