I've bought PTCL wingle 3 months ago at 2750 PKR include with 1250 PKR monthly fee from a PTCL distributor, Who tell me that' I can use 30gb monthly bandwidth, So I used data according my package, But after 30 days, When it has been disconnected, I recharged it with 1250 PKR, but after two days it disconnected again.
Now I call PTCL helpline to resolve this issue, But their representative told me that, I've used bandwidth more than my package. He cleared me that I'm using their package with 20GB per month and they don't have any package with 30gb bandwidth per month in previous month.
Anyway, The solution to reconnect my wingle again is to pay 500 PKR more, As I've used 2gb above from 20gb.
I came to know that PTCL distributor had told a lie to sell his product, So I go to a local shop to deposit 500 PKR, But he told that he cannot send 500 PKR, As he did not know, how to load it.
I went another shop, Where he told me that, He can load, So he enter complete MDN number and replaced first two digits 92 with 0. Now its connected, So I start browsing. After 28 days, I deposited 1250 PKR at my MDN, So that I don't have to face disconnection issue, But after 5 days, It disconnected again, So I contect again to ptcl helpline, Where I was told that, I should not deposit in advance, As they have charged it as for extra bandwidth and now I've to deposit more 500 PKR to reconnect my device in normal.
Okay, I only said him that' "This is not fair, PTCL is out of dated company, But we don't have another choice, As its better than other." I asked him to tell any method to check my monthly bandwidth, So he told two easy ways to check PTCL EVO Wingle Montly Data Usage to avoid any issue with overuse it.
We check data at:
192.168.1.1
by clicking statistics and admin/admin as username and password, But we need to reset again, If we have used bandwidth more than our package.
1. Online Data Check at PTCL Site:
Just you need to Registered your own account with submitting your complete MDN, Email, Full Name, Mobile and Location, Then you'll receive an auto generated email include with your password from PTCL server.
Now you can check your usage data of all types of PTCL wireless devices any time at: PTCL EVO PORTAL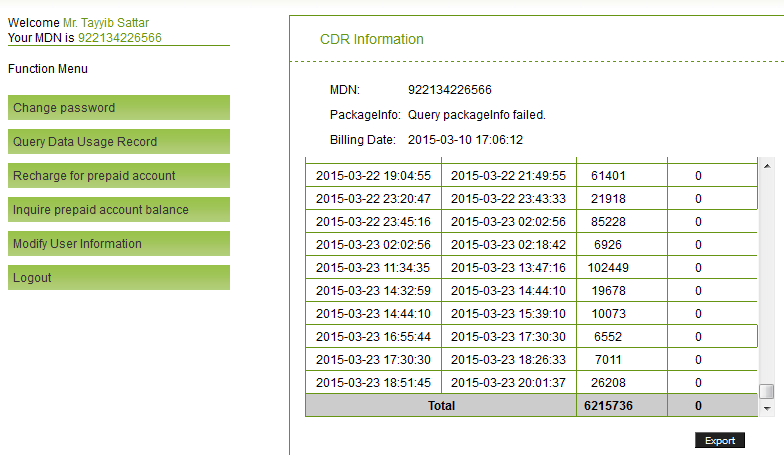 Here you can see, Data available in KB, Which confuse many people, So you can Convert KB to MB or GB.
2. Call to PTCL:
You can call 1218 to ask your monthly data usage details at any time, Its their staff duty, but I've checked mostly, they drop the call.
3. Email to PTCL helpline:
We can check data usage by sending email to:
evo.support@ptcl.net.pk
But you've to wait to respond by Lazy PTCL Supporting Team. Are you agree with me???