The Certificate of Authenticity (COA) is a special security label that accompanies legally licensed Microsoft software to help prevent counterfeiting. If you see the COA on a Microsoft software box, you know that the software and other items inside, such as media and manuals, are genuine. If your computer came with Windows already installed, look for the COA on the outside of your computer. If you have a small device (with a length or width of 6 inches or less), the COA might be under the battery. Just go to the Microsoft website to see more examples of COAs.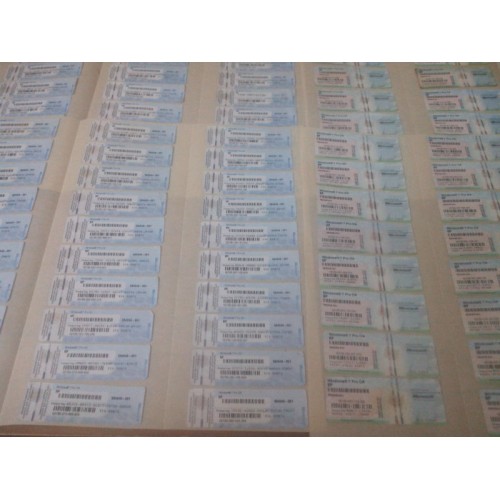 Is the COA my license?
No. The COA only shows that your software is genuine. The Microsoft Software License Terms contain all the rights and limitations that govern your use of the software. You must accept the license terms to use Microsoft software.
Product Shipment
Windows 7 Pro Used OEM COA Package is available for Reseller but before order placement, Please check more details as given bellow;
Place of Origin:

USA

Brand Name:

Microsoft

Certification:

COA Label

OS:

Windows 7 Pro

PC Brand:

Dell, HP, Acer, Lenovo etc.

License:

Global OEM Single PC Activation

COA Version:

X15/X16 (Not Specific)

Color:

Blue

MOQ:

20x



Other Choice: Windows 7 Home / Ultimate (Also Available on Different Prices)
By default, We send Windows 7 Pro X16 COA in blue color but You can mention your requirements via email to get specific version or color.

If you're reseller, You can Buy Windows 7 Pro Used OEM COA Package (X15/X16) at reasonable cost, Where we'll send license keys or COA picture via email soon after confirm your payment and deliver the COA through DHL within 3 to 5 business days.
Windows 7 Pro Used OEM COA Package
Brand: Microsoft
Product Code: 7Pro-u-COA
Availability: In Stock
$10.00

$4.00

Ex Tax: $4.00
This product has a minimum quantity of 20
Related Products
Tags: Windows 7 Pro Used OEM COA Package, bulk price for windows 7 pro coa, windows 7 pro coa sticker, where to buy windows 7 pro Genuine coa, windows 7 professional coa price, windows 7 pro coa price, windows 7 pro coa bulk buy