Adobe Acrobat is a family of application software and Web services developed by Adobe Inc. With Adobe Acrobat Pro 2020, You can view, create and edit professional PDF documents. This License provides access to the perpetual version of Acrobat for Windows. Having features a new Home view that helps you to stay organized and productive by allowing you to view and manage documents on both your computer as well as cloud storage services like Dropbox, OneDrive and SharePoint. You may Convert Microsoft Office documents, JPEG images, web pages and many more into PDF documents that can be edited and shared. You may also use Acrobat to digitally sign, automatically fill out and send forms with customized colors to highlight important areas. All aspects of any PDF document may be edited, including text, images and even the metadata.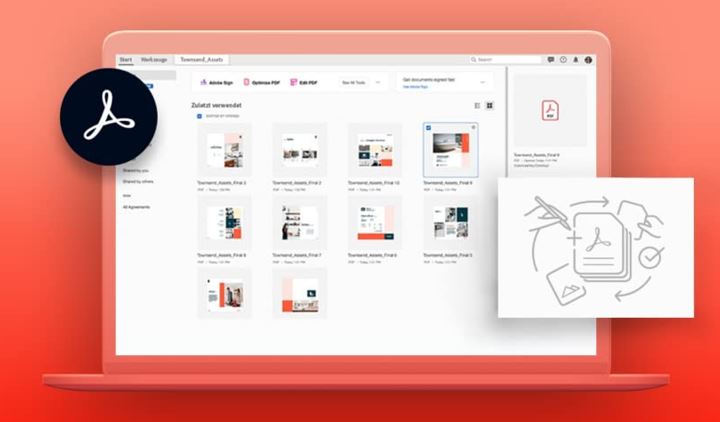 Adobe Acrobat Pro 2020 New Features
1. An Improved Home
You can manage, organize and search PDFs on both your computer as well as cloud storage services from the Home view. Which includes a recent files list, tool recommendations for editing your PDF, search box and context sensitive menus to allow you to take actions across multiple files and to monitor the status of shared documents.
2. View, Edit and Create PDF Documents
You can Create high quality PDF with ability to edit and change text, images and even the metadata.
3. Convert Documents
You can convert Microsoft Word, Excel and PowerPoint documents as well as JPEG images, web pages and more. It can be exported into PDF to edit and share. You can also use Acrobat to convert PDF to Word, Excel and PowerPoint formats while preserving fonts, formatting and layouts.
4. Scanning Documents
You can scan Documents directly into Acrobat and the built in OCR is included to recognize the text and make it searchable.
5. Create Protected PDFs
You may add restrictions to any document to prevent others from copying, editing and printing sensitive information. Adobe Acrobat Pro 2020 also supports Microsoft Azure Information Protection and Information Protection using Office 365.
6. Complete Forms in a Flash
You may add custom colors to highlight specific areas, also automatically fill out, sign and send forms with the smart autofill functions.
7. Cloud Compatible
Adobe Acrobat Pro 2020 supports cloud storage services like OneDrive, Dropbox, Box and SharePoint.
8. Writing with DirectInk
DirectInk technology will allow you to smoothly and accurately write directly onto your documents with digital pens. which give you a more natural experience while signing your name in the Signatures Panel on Windows 10 devices.
9. Pre-flight Enhancements
Pre-flight Profiles, Fixups and Checks are now organized in Libraries. Pre-flight Variable allows you to adjust Profiles, Checks and Fixups when they are applied. You can also filter the existing objects using Variables.
10. Improved Accessibility
Adobe Acrobat Pro 2020 has updated accessibility features to make it easier for people with disabilities to use the PDF documents and forms both with or without using assistive technology software and devices.
Adobe Acrobat Pro 2020 License for Windows
This product has bellow functions:
Adobe Acrobat Pro 2020 License for Windows
After Online Activation, License is Valid for Single User Lifetime
We did not Provide Support for re-Installation
Cannot Bind with Account
Please Note: Adobe Acrobat Pro 2020 is compatible with Windows 11, 10, 8 as well as Windows Server 2019, 2012 R2, and 2012. In order to activate Adobe Acrobat, users need an Adobe ID that is linked to a valid email address to obtain an activation code. For more details, You may check Adobe Official Site.

Adobe Acrobat Pro 2020 License for Windows
Brand: Adobe
Product Code: Acrobat-Pro20
Availability: In Stock
Related Products
Tags: Adobe Acrobat Pro 2020 License for Windows, Adobe Acrobat Pro 2020 Perpetual License, View and Edit PDF documents, full access to adobe acrobat 2020 software, Adobe Acrobat Pro 2020 License Price, Buy Adobe Acrobat Pro 2020