Change Windows 10 Start Menu Settings to make everything a lot easier then it's been ever before
With the constant new updates of Windows 10, Microsoft is slowly pulling out of the classic control panel. Even though it is still there but it's being put in deeper and made harder to access. Favoring the new App settings option. Yet however, the control panel we love and prefer over other means of settings is still present. Many of the classic options have been transformed into a modern design in the settings app, So you can check here, How to Change Windows 10 Start Menu Settings.
How to Change Windows 10 Start Menu Settings
Microsoft always slowly gets rid of its old features. Doesn't really just jump through its transitions. Looking towards it this way. There might come a point when Microsoft gets rid of the control panel all for once. If you're a long term windows user yet you're new to the Windows 10, it'll be hard for you to cope up with this, it'll take some getting used to.
A plus side to Windows 10 though is the start menu. After they updated the window from 7 to 8.1. Microsoft really made the start menu complicated and conjusted it. But with the windows 10, they absolutely killed it. It has a similar design to the windows 8.1 start menu but it holds more applications. And overall makes it a lot easier to access things. It also has many features which weren't there in the previous versions of windows. In addition to this, you can also pin applications, links and other things in the menu as well. Just like in some apps and web browsers you can pin individual and groups of settings to the start up menu.
If you want to access your links and settings faster, here's how to pin your settings in the windows 10 start up menu.
Pin windows 10 settings to start up menu
Firstly open the settings app by hitting the windows key and then clicking the settings bar (the gear icon) it's located just above the power button on the left side or if you're more if a keyboard user, use the windows key+ I its a shortcut to access the settings app directly.
You can look your way through all the settings and decide which ones you want. To pin your desired setting, you need to right click on the setting you selected to pin and then click on "Pin to start" button.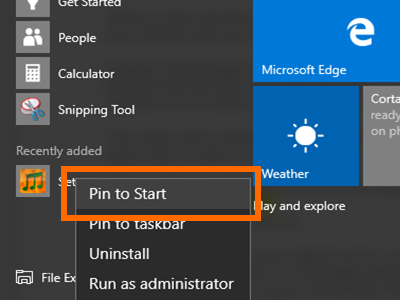 The settings you pin will be shown in a tile on the start menu just under the apps.
it's also worth pointing out that you can even pin the whole set of the categories too. Firstly when you open the app just right click on the setting you desire to pin then. While it allows you to pin the whole root category but shorting it down to individual settings you need the most is where this feature shines the best.
Another thing you can pin and you might want to is the link to the classic control panel to the start up menu. Although it also allows you to pin individual items too which makes it more practical. For example, if I find it useful to pin the  Programs and Features to the startup menu for the ease of when I want to uninstall or install an app or maybe turn on or off a windows feature. Press the windows key and type control panel in the search bar then press Enter. You can also choose from the search bar to open the control panel. After opening just simply right click on the one you choose and press pin to start.
Benefits of having pin to start settings
This will probably save you a lot of time which you wasted clicking through many pages of settings. It'll get you directly where you want to be. It also gives a shortcut to the settings you need to alter maybe every day or every once in a while. Only needs to be changed occasionally. Creating a pin to start button for a setting is far easier than scrolling through many pages of data trying to find where it is rather than just pinning it to the start menu when you're there.
Was this article helpful? would you like blogs on more tips and tricks? if you have any queries make sure to comment down below. If this article was helpful please share it with your friends.