Google is a popular and most recommended search engine in all over the world, So When Google says anything inside search, Its absolutely right, Because No doubt, Its all search is up to date at any time.
Recently, Google has released its top searching trends 2016 Globally, Which also can see for individual countries using its filter. We have checked it and extract top 10 searching keywords in Pakistan level, Now I'm sharing these informations, Because you should know, How Google Search Trend has being used in SEO (Search Engine Optimization).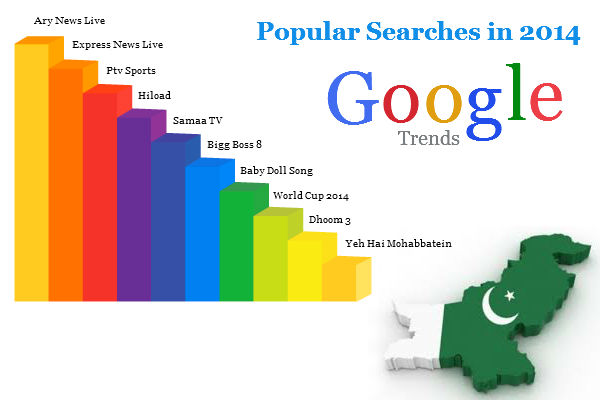 Google Top Trends 2016 in Pakistan:
Google released its annual searched result in 2016, Which can view using its special country and category (Not available for Pakistan) filters. Here You can see its top 10 & most popular news search in Pakistan for the year of 2016.
1.    ARY News Live
2.    Express News Live
3.    PTV Sports
4.    Hiload
5.    Samaa TV
6.    Bigg Boss 8
7.    Baby Doll Song
8.    World Cup 2016
9.    Dhoom 3
10. Yeh Hai Mohabbatein
As seeing personal search, We found Top 10 popular names in Google search trends 2016 in Pakistan.
1.    Robin Williams
2.    Ayeza Khan
3.    Tiger Shroff
4.    Umar Akmal
5.    Hamid Mir
6.    Sana Khan
7.    Lionel Messi
8.    Gauhar Khan
9.    Daisy Shah
10. Fahad Mustafa
These all searching keywords reveal that 70% people of Pakistan spend more their time at getting updates with watching live news TV like; ARy news, Sama TV, Express and Geo news channels, Getting entertained with watching Songs and Movies & Dramas like; Baby Doll, Doom3, Big Boss8, Yeh Hain Muhabbten etc.
How to Use Google Trends in SEO:
Beside of, You can check the result for any keyword at Google trends, Using category or country filters, Which can help you as a blogger, to get top rank on Google searching results against specified keywords. Usually, New bloggers don't care about keywords, Using for them for their blog and posts, But its most important part of seo (search engine optimization).
Top Searched Keywords For Bloggers:
As a blogger, You should use popular keywords, Using people at Google to find their required results, So I personally searched for many keywords and found some top searched keywords, You should must use at your site/ blog.
Pakistan is at first number, being searched for these words.
1.    Allah
2.    Muhammad
3.    Naat
4.    Live Tv
5.    Songs
6.    Free
7.    Mobile
8.    Sexy
9.    Girls
10.  Hacking
You can view more at : Top Globally Searches in 2016
I suggest to always use Long tail keywords, Informative keywords, Navigation keywords, Purchase keywords, Keywords related your brands, Low competition and targeted keywords and optimizing for your content.